Permalink
Incision on the perineum
5.8.1 Indications
Episiotomy can cause infection, haemorrhage and/or chronic pain. It should not be done routinely. Simple first- and second-degree tears heal as well or better than an episiotomy.
Episiotomy should be routinely performed in case of symphysiotomy.
Episiotomy should be considered in the following situations:
– Prolonged delivery, especially if foetal heart rate slows, when completion of the delivery is being obstructed by the perineum.
– Instrumental delivery (forceps or vacuum extraction).
– Shoulder dystocia.
– Occiput posterior, face, or breech delivery.
– Oedematous or scarred perineum that does not stretch properly.
– History of third and fourth degree tears.
– Excision (clitoral circumcision with partial or total clitoridectomy, often with removal of the labia minora). Excision causes a loss of perineal elasticity, with a risk of a prolonged delivery and perineal tears. Episiotomy may be necessary but may not completely prevent tearing.
5.8.2 Equipment
– Delivery sets containing 2 pairs of scissors
– 10% povidone iodine, sterile compresses
– 1% lidocaine
5.8.3 Technique
– Swab the perineum with 10% povidone iodine.
– Administer local anaesthesia by infiltration with 10 ml of 1% lidocaine.
– Perform the episiotomy when the perineum is thinned and widened, distended by the foetus, which appears at the vaginal opening: during a push, make a straight 4 cm cut using sterile scissors, obliquely down and out at a 45° angle from the posterior vulvar commissure. Protect the foetus with the other hand (Figure 5.22).
Figure 5.22 - Cutting the perineum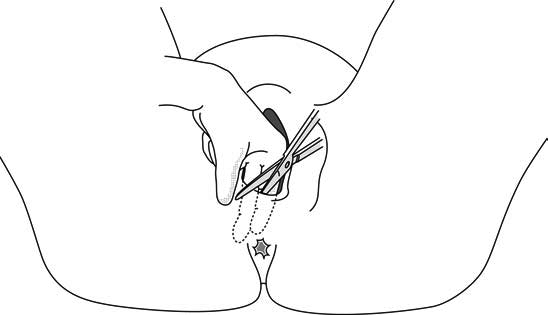 – The episiotomy can be done to the right or the left, depending on whether the operator is right- or left-handed.
– The scissors used for the episiotomy, now contaminated, should be put aside immediately. They must not be used for other procedures, like cutting the cord (this is why all delivery sets must include 2 pairs of scissors).
To suture the perineum, see Section 5.9.